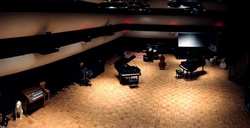 After leasing the iconic recording studio for fourteen years, Ben Folds has announced that he is passing Nashville's former RCA Studio A over to renowned music producer Dave Cobb.
The transition is expected to take place in April. Folds expects to devote more time to his successful touring, most recently with the New York sextet yMusic, and other projects.
Folds won't be a stranger to Studio A, however. He'll continue to use the space, and his management team, which also oversees day-to-day operations, will remain in offices at the studio.
Folds, as you may recall, led an eleventh-hour effort to save the historic recording space from the wrecking ball in 2014. (more…)