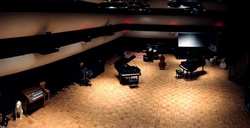 An end-of-year move by famed music producer Mike Curb has resulted in 30 Music Square West being rescued from demolition and the building preserved.
The iconic RCA Studio A, now known as Grand Victor Sound leased and operated by Ben Folds, will stay open and continues to do a brisk booking business.
The somewhat nondescript 1960s-era building, which had been sold to Brentwood, Tenn., developer Tim Reynolds earlier in the year, was slated for demolition, and tenants had been told their leases would be cancelled in November. As permits were being pulled for the wrecking ball, a deal was struck between Reynolds and a consortium of Nashvillians consisting of preservationist Aubrey Preston, healthcare executive Charles Elcan, and music producer and former politician Mike Curb.
Curb has a history of rescuing historic Nashville properties in the past, having previously purchased and restored Columbia Records' Studio A, considered the birthplace of modern country music; RCA Studio B in the building adjacent to Studio A and now home of the Country Music Hall of Fame; and the Quonset Hut, producer Owen Bradley's cavernous metallic building originally destined to be a television studio.
Bradley's estate was also a partner in 30 Music Square West along with the family of Chet Atkins. Reynolds purchased the building from the Bradley and Atkins estates earlier in 2014 for $4.1 million with the intention of demolishing it and building a five-story mixed-use development which would have included a restaurant and condominiums. It took an eleventh-hour, $5.8 million offer by Curb, Elcan and Preston to convince Reynolds to cancel his plans and turn over the property. The deal was finalized on December 23.
Curb, long a fan of Folds' music and commitment to Music City, explained that keeping the studio and Ben in Nashville was good for the music scene. He told the Nashville Business Journal in a July interview:
We have to strike a balance here because we have to be fair to the Atkins and Bradley families, however, none of us want to lose Studio A and Ben Folds, because we want more pop and other music in Nashville, and Ben Folds symbolizes that.
With the studio ordeal behind him, Ben has been busy moving off in different directions musically. His manager (and co-manager of Studio A) Mike Kopp told me:
Ben is a great creative place these days. the music that is flowing out of him is frankly some the best any of us have ever seen and heard.
In a future article, more details of some of his creative plans for 2015.