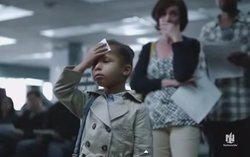 What's that song again? Your ears don't deceive you. The latest television ad campaign for insurance giant Nationwide features the 2008 Ben Folds & Regina Spektor song You Don't Know Me as its musical soundtrack.
The 30-second spot is titled Toddler and it depicts dealing with adult frustrations, such as waiting at the motor vehicle office and enduring terrible service in a restaurant, by showing toddlers in these real-world grown-up situations to emphasize that good service, such as that which Nationwide provides, is everything.
Image copyright and courtesy Nationwide Insurance.