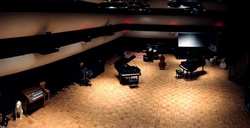 After leasing the iconic recording studio for fourteen years, Ben Folds has announced that he is passing Nashville's former RCA Studio A over to renowned music producer Dave Cobb.
The transition is expected to take place in April. Folds expects to devote more time to his successful touring, most recently with the New York sextet yMusic, and other projects.
Folds won't be a stranger to Studio A, however. He'll continue to use the space, and his management team, which also oversees day-to-day operations, will remain in offices at the studio.
Folds, as you may recall, led an eleventh-hour effort to save the historic recording space from the wrecking ball in 2014. Folds did not own the building, but assisted in arranging a transfer of the property to a consortium of legendary Nashville music figures including preservationist Aubrey Preston, producer Mike Curb and Chuck Elcan. The building had been purchased by a suburban Nashville development firm which had plans to replace the studio building with a condominium tower. The rescue project, which Folds organized along with his managers Mike Kopp and Sharon Corbitt-House and songwriter Trey Bruce, has evolved into the Music Row Preservation Movement, the aim of which is to recognize iconic properties with National Register of Historic Places designations and to retain them for future generations of musicians and arts historians.
Cobb, another major figure on the Nashville music scene, has impressive credentials including producing Jamey Johnson's Grammy-nominated Guitar Song, as well has recent projects by A Thousand Horses and by Chris Stapleton, whose album Traveller won a Country Music Association award. "I know the studio will be in good hands with Dave Cobb," Folds said. "Dave is familiar with the history and inner workings of Studio A, and he represents a bright future for Music Row."
More information from The Tennessean on this story and the Music Row Preservation Movement..