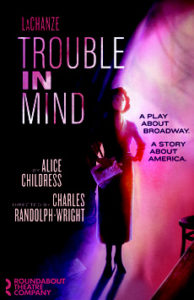 Ben Folds Five fans know about Alice Childress. Or at least they think they do.
The song "Alice Childress," written by Folds and his first wife Anna Goodman, is an outside view of a breakup between a couple who drift apart in their outlook on life. You're probably humming the opening chords right now.
But another Alice Childress – unrelated to the subject of the Folds song – is having her moment in the spotlight more than a quarter century after her passing. The author of books that you probably have heard of, including A Hero Ain't Nothing But A Sandwich, Childress penned a play titled Trouble In Mind, which delves into the subject of racism, ego and identity in the theatre world. It played off-Broadway in 1955 to critical acclaim and was slated to open on Broadway in 1957 – but that opening never took place. The subject of coded prejudice and bigotry on Broadway was a hard pill to swallow for the powers that be during the racial turmoil of the fifties, and the suggestion was made to rewrite the ending in a more upbeat and forgiving way so as to be more palatable to mainstream audiences of the time. Childress balked, preferring to carry forth the truth, and the production was scrubbed.
Now, sixty-four years later, the comedy-drama has made its Broadway debut at the American Airlines Theatre in New York. Produced by the Roundabout Theatre Company, the show, which is set backstage in a theatre during rehearsals for a fictitious play, stars LaChanze as Wiletta Mayer, a veteran actress playing middle-of-the-cast roles but who longs for greater respect as her youthful enthusiasm for the craft has waned. The cast also includes Jessica Frances Dukes, Brandon Micheal Hall and Michael Zegen.
The limited engagement runs through January 9. Tickets start at $39.
Image: broadway.com