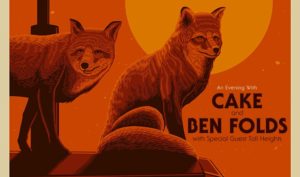 Following last year's acclaimed tour of the eastern US with Cake, Ben Folds is teaming up with the anti-grunge heroes for a co-headlining western states tour in September 2019. Kicking off in Bonner, Montana, adjacent to the college town of Missoula, the tour plays eleven gigs in seven states, wrapping up in the Dallas, Texas area.
"We had so much fun with Ben last summer that we decided to do it again, this time in the west," said Cake frontman John McCrea. Calling them "masters and my friends," Ben said he was happy to be on tour with the Sacramento-based band.
Cake are somewhat of a pillar of the ecology-smart movement. Their recording studio is solar-powered and generates a surplus of electricity, and they will be continuing their twelve year tradition of giving away a locally native tree at each performance. The tree appears on stage during the show, and is given to a lucky audience member who promises to plant and nurture it.
The electro-folk duo Tall Heights rejoins the tour as special guest. Based in Boston, Paul Wright and Tim Harrington released Pretty Colors for Your Actions, their third album, and have been touring extensively since last year's appearance with the Folds-Cake tour. They strive to entertain the audience through "a sound and a commitment to a voice and communicating something that's real and beautiful and true, as we see it, and offering that up at the end of the day for people to connect with." You'll want to get to the show early so you can experience their energetic style.
See our tour dates page for a complete tour listing. Presale is underway and general sales begin Friday, April 19.