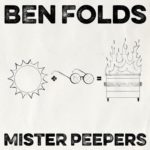 The single for Mister Peepers, Ben Folds' song about deputy Attorney General Rod J. Rosenstein and the derogatory characterizations of him (and which we wrote about here) will be released on 7-inch vinyl in the US. There's a release event planned at Brooklyn's Rough Trade at 3:00 pm Saturday, November 24, which is also Small Business Saturday. Ben will give a short performance, followed by a signing of the single. You only need purchase a copy of the 7″ ($8.99) to be admitted to the event. Doors open at 2:00 pm.
Rough Trade is a top independent purveyor of music and media. The Brooklyn store, in the Williamsburg neighborhood, is the largest of five locations, the other four being in the UK.
The 7-inch single, backed with A Million Years, will also be available, along with other special releases, at select independent record stores around the country as part of the Record Store Day event for Small Business Saturday. Check with your local shop for availability.