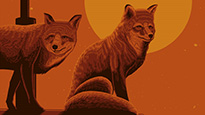 Ben's summer schedule this year unites him with alt-rockers Cake on a month-long tour of east coast and midwest festival venues. The An Evening with Cake and Ben Folds mini-tour will play shows in Boston, Philadelphia, Queens, the Jersey Shore, Columbia, Md., Richmond, Nashville, Indianapolis, Chicago and Milwaukee.
The two are a compatible match, according to Ben: "Cake – my rough contemporaries, comrades and heroes – to me, they make universal, poetic, identifiable music with a groove. I've learned a lot from these guys and I'm proud as punch to be on tour with them this summer." He's also thrilled to have Boston-based electro-funk duo Tall Heights on the bill as openers, and encourages fans to get there early.
He'll also do a show with the Grand Rapids Symphony and a solo evening at the Bay View Festival in Petoskey, Michigan. Info is available on our Tour Dates page.