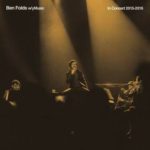 As part of a broad release by the independent record shops collectively known as Record Store Day, a new 10-inch vinyl by Ben Folds with yMusic becomes available in limited quantity (only two thousand pressed) on Friday, November 25 (the day after US Thanksgiving).
The EP, simply titled Ben Folds & yMusic In Concert 2015-2016, is on the New West label and assembles a handful of tracks of recent composition as well as one of Folds' evergreens, and is described as
a live snapshot capturing electrifying "chamber rock" performances by Ben Folds and the immensely talented New York-based classical sextet ensemble yMusic.
For non-hipsters, vinyl records have grooves on both sides of the platter, unlike compact discs that younger baby-boomers and some Gen-Xers are more familiar with. Side A consists of Not a Fan, Erase Me and Capable of Anything. Side B features Phone in a Pool and Steven's Last Night in Town. If you're living in the digital world, December 9 is the date to watch for the downloadable version to appear on your favorite digital service provider.