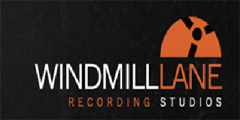 Recording sessions are set in Ireland for February as Ben reunites with his 2011 touring band Sam Smith. Ryan Lerman, Chad Chapin and Andrew Higley. They're putting together a collection of songs that Ben has been writing, inspired by the various "Rock This Bitch" improvs from live shows. A 2016 release is tentatively planned.
The sessions are to be recorded at legendary Windmill Lane Studios, most famous as the studio where the Irish rock band U2 recorded, as well as the Rolling Stones and Lady Gaga. Windmill Lane, an unassuming graffiti-laden building along Dublin's "Rock 'n' Stroll" Trail, is one of Europe's most highly-regarded recording facilities.
The Ireland trip is the result of Ben's friendship with Kevin O'Malley, the new United States Ambassador to Ireland. O'Malley invited Ben for an official diplomatic visit. While in Ireland, Ben will do a solo performance at the Ambassador's residence for Irish music educators and conduct master classes for Irish music students. Since he was going to be in Ireland for the diplomatic visit, he reassembled the guys and booked Windmill Lane.