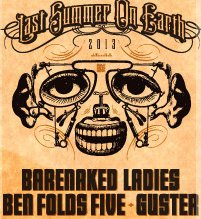 The summer tour season is approaching and Ben, Darren and Robert have teamed up with Guster and Barenaked Ladies for a real crowd-pleasing North American tour covering thirty large venues in twenty-three states plus Ontario.
The "Last Summer On Earth" tour takes the guys from coast to coast, including shows in places that have never had a visit from Ben, such as Boise, Missoula and Bangor along with major metropolitan areas.
The six-week whirlwind tour kicks off in Dallas on June 17, heads west, then north, zig-zagging across the country, takes a dip into the South  and ends up in Brooklyn, New York on July 30. Ben Folds Five play all but one of the initial thirty dates. Additional dates and venues are due to be announced in the coming weeks.
The tour is a reprise of Barenaked Ladies' 2012 summer tour with Big Head Todd & the Monsters, Cracker and Blues Traveler, which Rolling Stone called one of the ten hottest tours of last year's summer season. It's expected to be every bit as popular, if not more so due to the reunited Ben Folds Five joining in for their first major tour since the 1990s when they played shows such as Lollapalooza and the Vans Warped Tour.
Here is the schedule as of now:
June 17: Dallas, TX – Verizon Theatre

June 19: Denver, CO – Red Rocks Amphitheatre

June 20: Salt Lake City, UT – USANA Amphitheatre

June 22: Santa Barbara, CA – Santa Barbara Bowl

June 23: Los Angeles, CA – Greek Theatre

June 25 and 26: Saratoga, CA – Mountain Winery (no Guster)

June 28: Boise, ID – Botanical Gardens

June 29: Seattle, WA – White River Amphitheatre

June 30: Missoula, MT – Big Sky Brewing Company

July 5: Columbus, OH – LC Pavilion

July 6: Cincinnati, OH – Horseshoe Casino

July 8: Lansing, MI – Common Ground Festival

July 9:  Chicago, IL – Charter One Pavilion (no Guster)

July 11: Toronto, ON – Molson Amphitheatre Pavilion

July 12: Detroit, MI – DTE Energy Music Theatre

July 13: Nashville, TN – The Woods at Fontanel

July 15: Columbia, MD – Merriweather Post Pavilion

July 16: Boston, MA – Bank of America Pavilion (no Guster)

July 18: Philadelphia, PA – Mann Music Center

July 19: Uncasville, CT – Mohegan Sun Arena

July 20: Holmdel, NJ – PNC Bank Arts Center

July 21: Bangor, ME – Waterfront Park
July 23: Lenox, MA – Tanglewood

July 25: Charlotte, NC – Time Warner Cable Uptown Amphitheatre

July 26: Alpharetta, GA – Verizon Wireless Amphitheatre

July 27: Charleston, SC – Family Circle Stadium

July 28: Raleigh, NC – Red Hat Amphitheatre

July 30: Brooklyn, NY – Celebrate Brooklyn

Ticket pre-sales begin March 19, with the public on-sale date March 22 at Ticketmaster.com and LiveNation.com.
Here is the press release announcing the tour:
BARENAKED LADIES TEAM WITH BEN FOLDS FIVE AND GUSTER FOR THE 2013 "LAST SUMMER ON EARTH TOUR" 
TOUR LAUNCHES JUNE 17 IN DALLAS
Los Angeles, CA (March 18, 2013) – Rolling Stone called it "one of the ten hottest summer package tours of 2012"and Entertainment Weekly spotlighted it on their "2012 Summer Must List." We're talking, of course, about the Barenaked Ladies' uber-successful "Last Summer On Earth," a rollicking roadshow that tore through more than 30 arenas and amphitheaters during its near-sold-out run. Back by popular demand, this year's lineup sees the multi-platinum-selling Ladies joined by Ben Folds Five and Guster for a hot-ticket-tour set to kick off June 17th at the Verizon Theatre in Dallas, TX. The "Last Summer On Earth 2013" will hit 30 arenas and amphitheaters across the country, with pre-sales tickets starting March 19, followed by a public sale on March 22nd at Ticketmaster.com and Livenation.com.
It'll be a busy summer for the Barenaked Ladies (guitarist/vocalist Ed Robertson, bassist/vocalist Jim Creeggan, keyboardist/vocalist Kevin Hearn and drummer/vocalist Tyler Stewart), who are celebrating their 25th anniversary with the release of a brand-new studio album (their twelfth, for those keeping count) and their first for new label, Vanguard Records. The band is putting the finishing touches on the album, which was recorded in Toronto with producers Gavin Brown (The Tragically Hip, Metric), Howie Beck (Feist, Josh Rouse) and Mark Endert (Maroon 5, Train). Over the course of the past twenty-three years, Barenaked Ladies have amassed an international fanbase whose members number in the millions. Their plethora of career highlights includes eight Juno Awards and multiple Grammy nominations, more than 14 million albums sold worldwide and a plethora of hit singles, including No. 1 hit "One Week," as well as "Pinch Me, "Brian Wilson," "If I Had $1,000,000" and many more, along with the theme song for the hit CBS television series, "The Big Bang Theory."
Ben Folds Five is touring in support of The Sound Of The Life Of The Mind, the group's first album of new music in 13 years. The groundbreaking pop trio of pianist Ben Folds, bassist Robert Sledge and drummer Darren Jessee launched in Chapel Hill, North Carolina in'94 and released debut album Whatever And Ever Amen in '97. A slice of pure pop perfection, the album introduced the ballad "Brick," which broke the band commercially and sold more than two million copies worldwide. BF5 recorded its last album, '99's The Unauthorized Biography Of Reinhold Messner, which included the single "Army," before disbanding in 2000. (The trio reunited for a one-off live performance of The Unauthorized Biography Of Reinhold Messner on MySpace in 2008). In 2011, the original three members of Ben Folds Five came together to record three new studio tracks for The Best Imitation Of Myself: A Retrospective, a career-spanning anthology. The band's magic rekindled in the new tracks, BF5 gave its first concert in more than a decade to a spellbound audience at New York's Mountain Jam Festival on June 2, 2012. That inspired a short run of key US summer festival dates, including Bonnaroo, Milwaukee Summerfest, and Old St. Patrick's Church Block Party in Chicago which set up a massive comeback tour with dates in the US, UK, Australia, and Japan.
Guster recently self-released Guster: Live Acoustic, a collection of live recordings from their 2012 acoustic tour. It's been eight years since Guster released a proper live album – 2004's Guster On Ice – and two years since their last studio album, Easy Wonderful.  The sixteen tracks from Live Acoustic are a musical tribute to the varied faces and places that made last year's travels one of the most remarkable in Guster's impressive career. Guster began in a dorm room at Tufts University and has released six studio albums in the last two decades –Parachute (1993), Goldfly (1998), Lost and Gone Forever (1999), Keep It Together (2003),Ganging Up On The Sun (2006) and Easy Wonderful (2010).  Known to open up for themselves in disguise as psychedelic rockers "Trippin' Balls" and as Christian Southern Rock outfit "The Peace Soldiers," Guster has also shared the stage with the Boston Pops Symphony Orchestra and the Colorado Symphony in recent years.  Singer Ryan Miller has branched out into scoring films – including 2012's beloved Sundance standout Safety Not Guaranteed.  Bandmate Adam Gardner has started his own non-profit called "Reverb," which works with bands, artists, and venues to reduce the music industries environmental footprint.
Additional info and dates on the "Last Summer On Earth" tour will be announced in the coming weeks.