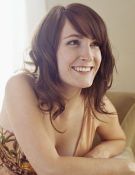 As we know, Folds loves to cover other artists in his own style, or to do so in a style that totally departs from the original in a parodic way. The Dr. Dre song that we know and love comes to mind, for instance. Most of Ben's own music, though, is quirky or otherwise unique enough that it renders best when he alone performs it. On occasion, however, a cover of one of his songs by another artist comes along that takes the song in either a new direction or further along the path into another genre, such as the Thievery Corporation's remix of In Love from William Shatner's album Has Been that Ben provided the music and backing vocals on, or Bette Midler's redo of Boxing on her 1998 album Bathhouse Betty. Truest of all seems to be the Yellowcard cover of Missing the War.
Now, singer Sara Gazarek has nicely covered one of Ben's ballads, The Luckiest, on her new album Blossom and Bee, just out last month. Gazarek is an accomplished jazz vocalist in a class with Kelly Eisenhour and Emilie-Claire Barlow. Her style can range from a soft and gentle one, as is her treatment of The Luckiest, to a swinging interpretation of the classic Everything I've Got. The album is a delightful mix of established standards like Tea for Two, covers of contemporary swingers like Taylor Eigsti's Lucky To Be Me, and even her take on the Schoolhouse Rock song Unpack Your Adjectives. The album, a tribute to the vocal style of the legendary singer Blossom Dearie,  is wrapped in the smooth accompaniment of pianist Josh Nelson, bassist Hamilton Price and drummer Zach Harmon.
The inclusion of Folds' popular hit The Luckiest in the collection is admittedly inspired by the first dance Gazarek shared with her husband at their wedding. "We both have part of the lyric tattooed on our arms" Gazarek shares, which can be witnessed on the album's cover art. "I chose to include this song in the story of this album, as it's a beautiful part of my life."
Give it a listen if you enjoy Ben's music repackaged in a different style, especially if you find Ben's musicality and jazz-improv traits enjoyable.