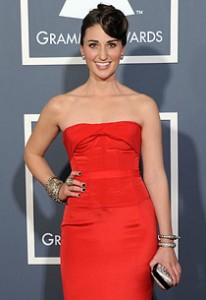 NBC Television has announced that three-time Grammy nominee Sara Bareilles will be joining the panel of judges on the hit a cappella contest show The Sing-Off this fall when the third season debuts on Monday, September 19.
Bareilles, who replaces judge Nicole Scherzinger, performed in the series' second season finale last December, and embraces a cappella music. She was a member of the vocal group Awaken A Cappella while a student at UCLA.
Besides Folds, judge Shawn Stockman of Boys II Men fame rounds out the panel. Host Nick Lachey returns for the third season as well. Â As we wrote earlier, the show takes on a new format, including more behind-the-scenes and closeup pieces, as it lengthens its scope from a three-week mini-series into a half-season schedule regular.