It's been on the calendar for a while, but the promotion is kicking in (and so are ticket sales) for the Nashville Symphony show Keys to Music City, a benefit for the Nashville Symphony and for two volunteer firefighting companies.  The show, on  Saturday, November 27, is Folds' only appearance in Nashville this year. Tickets, at $50-175, are now on sale. Item from WSMV.com (Original post Sep 25th 2010)
Update: Ben adds that Jason Sudeikis from Saturday Night Live is coming down to lend moral support, and  one of Ben's favorite conductors, Francisco Noya, is also planning to be there. Noya is an associate professor of composition at Boston's famed Berklee College of Music and is the resident conductor of the Rhode Island Symphony. He'll also be joined on stage by nine-year-old piano sensation Ethan Bortnick (pictured at right with Ben's son Louis), who has appeared on many national TV shows, at public events, and has his own YouTube channel.
Update 2: Drummer Sam Smith designed a poster for the event. Sam to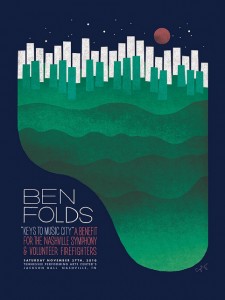 ld me the good news that they sold out, raising money for flood relief in Nashville.
Related show