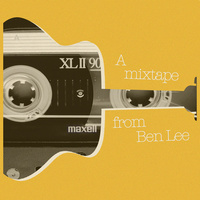 It's a recent project by Australian singer-songwriter Ben Lee, not Ben Folds, though it does feature a track on which Lee is joined by Folds on Life As Unusual. The album features several other artists who sit in with Lee, including Zooey Deschanel, Sean Lennon and Neil Finn, and is a benefit for the Q'ero Project, which supports the Q'ero people of Peru, the last living vestige of the Inca people.
It's available as a digital download on a pay-what-you-wish basis.
Of the project, Lee said:
After almost 23 years in the music business I never presume to know what is around the next corner, and I certainly didn't see signing to Warner Bros. Records coming. The release of the mixtape project is a great milestone for me, as it has been in the works for over a decade. I'm looking forward to sharing the music with my loyal fans, as well as supporting one of my favorite charities, Inkarri, for their wonderful Q'ero Project.
Lee will release a full-length album, Love Is The Great Rebellion, later this year. And as you will recall, Folds, Lee and another Ben – Kweller – collaborated on a tour of Australia and subsequent album in 2003.